Sustainable strategy to manage fast-paced growth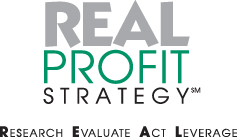 Background
SRI was introduced to a family-owned building materials distributor in the Northeastern U.S., which operates as a two-step distributor serving both residential and commercial markets.  The company's annual sales had recently grown from $13 to $22 million with solid profitability.  
Despite this success,  the owners sought help to create a more sustainable process to manage go-to-market strategy and vendor relationships, while simultaneously improving profitability and salesforce effectiveness.
Analysis
Upon being engaged, SRI began by convening the company's management team and leaders of its business development group to assess the current state of affairs.  A REAL PROFITSM Strategy diagnostic yielded a key insight: with recent growth, the company needed a new way to stratify its segments across a more diverse set of customer types and product categories.  
While the company was growing, the leadership team didn't know why, with whom, or how profitably.
With this insight, SRI worked side-by-side with management to develop a new segmentation scheme based on business models served, customers, and products.  New segmentation was combined with a view of customer profitability for the first time in the company's history, and that's where the magic started to happen.  
This new profit-driven view of the business led to opportunities in four key areas: improving vendor relationship management, increasing salesforce effectiveness, better managing customer and product mix, and enhancing pricing practices
REAL PROFIT℠ Strategy in Action
The opportunities above combined to form the foundation for a new go-to-market strategy, and SRI helped the company developing a specific plan of attack to execute it.  
The plan included:  to 1) improving salesforce effectiveness through a focus on share-of-wallet and revised account coverage,  2) creating account plans tailored to a differentiated view of product and customer margins, 3) refocusing vendor relationships for profit maximization, and 4) implementing a new pricing strategy and value selling techniques.
Results
With the help of SRI, the company is poised to continue growth in its most profitable segments, while also increasing margin.  
Improved business performance allows the company to better prioritize the right actions to drive market and share-of-wallet growth.  The new go-to-market strategy has improved relationships with the company's most profitable vendors.  Sales coverage is better aligned with customers who yield profitable growth.  And, pricing has become a new lever for the company to pull to increase profitability.