We help leaders see the real profit drivers in their business and
chart a path forward in which they can be confident
Faster growth.  Increased profit.  Reduced costs.  Whether you need a turnaround or look to build upon healthy performance, we bring the know-how and tools to accelerate your business.  We do so with our REAL PROFIT StrategySM, an approach and working style that is fact-based, collaborative, and results-oriented.
Who We Help
Owners, CEOs, Presidents
Leaders need perspective beyond the "day-to-day."  We act as resources to identify new opportunity and provide stewardship for the long-term health and success of your organization.
Functional Leaders
Is your department capitalizing on the latest new ideas and best practices?  We elevate performance of functional teams with a focus on financial, commercial, and operational excellence.
Private Equity
Investors are increasingly taking an active role in value creation as competition increases.  We can help build your value creation playbook and provide conviction-based due diligence.
Our REAL PROFIT StrategySM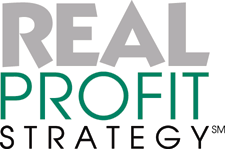 Build a Fact Base

We're data wonks, and we believe in the importance of being data-driven.  We bring analytics to bear in building a fact base about what's working and not working in your business, providing a foundation for clear-eyed and objective identification of opportunity and decision-making.
Engage and Collaborate

You know your business better than we do.  That's why we engage and collaborate directly with you and your team right from the start through a series of interviews, workshops, and working sessions.  We check the egos at the door, roll up our sleeves, and work side-by-side with you.
Decide and Act

We're action-oriented, and we want to help you get things done.  We deliver strategic direction backed up by tactical action plans and expected financial outcomes that establish a clear roadmap for how to tackle opportunity successfully.
Design Tools For Success

We build the tools you need to create value.  Rooted in the latest techniques in data visualization and analytics, you get custom tools designed for your unique business to deliver exactly what you need to spur action, drive change, manage performance, and drive results.
Motivations For Our Work
Every business will eventually hit some sort of a transition point, and that's where we've found leadership benefiting the most from our outside perspective across a range of situations.
We can help you move forward confidently